Almost Paleo…gingerbread cupcakes with marscarpone frosting – by Isabella Fuentes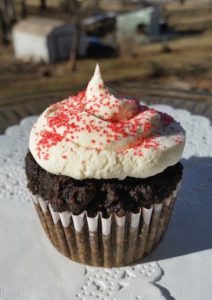 Almost a year ago, my partner got serious about his rock climbing and mountaineering training and adopted a "paleo" diet. As a lover of bread, French fries, and all things dessert, I was not immediately on board. However, I was mindful in the kitchen when preparing meals we could both enjoy. We began to evaluate more closely the source and quality of our ingredients, but being a full time graduate student means I have limited time and money to spend in the kitchen. As a result, we often eat simply (seasoned ground beef, sautéed/roasted/fresh vegetables, and eggs), but the scientist in me is always down to experiment. I want to share with you paleo-friendly recipes that my trusty crew of taste-testers have deemed winners. Try something new and enjoy!
—i.m.f.
One of my favorite people had a birthday this week and I made cupcakes to celebrate. When I heard she had a late-night barf fest after eating her weight in cake on her actual birthday (no judgment; we were all 6 years old once), I wanted to make her a party treat that was free of grains, refined sugars, and industrial seed oils; something her dad, a good friend of ours, would eat. I decided on my paleo-fied Laura Ingalls Wilder gingerbread cupcakes with sugar-free marscarpone frosting. Mouthwatering descriptions of warm country cooking were some of my favorite passages from Wilder's Little House series; recipes for which were published in The Laura Ingalls Wilder Country Cookbook. I've made a few tweaks to the recipe and paired it with a marscarpone frosting, rather than the boiled chocolate icing she suggests.
These cupcakes topped with a simple chocolate buttercream (butter, powered sugar, vanilla extract, and cocoa powder…not paleo) were well received around the holidays, especially when paired with an ice-cold glass of whole milk or a white Russian. However, my trusty taste-testers thought a cream cheese frosting would pair better with the gingerbread than chocolate, so this time around I experimented with a marscarpone frosting. Marscarpone is a soft Italian cheese used in tiramisu and I think it adds a little sophistication to this country gingerbread. I've also included a simple paleo-friendly buttercream frosting. The tasters liked both frostings, but the marcarparone was the crowd favorite. For a spicy twist, add ¼ teaspoon of cayenne pepper to the dry ingredients and top with a dark chocolate ganache.
This recipe makes one 8" square or 9" round cake or 13 cupcakes (yes, 13).
I used organic ingredients when I could, but every ingredient was simple with no added preservatives or artificial flavors.
Ingredients:
Gingerbread
3 cups paleo-friendly flour (recipe below)
1 tsp ground ginger
1 tsp ground cinnamon
1 tsp ground allspice
1 tsp ground nutmeg
1 tsp ground cloves
½ tsp pink Himalayan salt
½ cup coconut oil, softened at room temperature (I used Spectrum brand)
1 cup blackstrap molasses (must be blackstrap! It has a strong flavor and it's lower carb, rich in minerals, and easy on digestion; I used Brer Rabbit brand)
½ cup coconut sugar (I used organic, Hy-Vee brand)
1 tsp baking soda
1 cup boiling water
2 eggs, beaten (organic, pasture raised; purchased from a farmer friend)
Sugar-free marscarpone frosting
16 oz marcarpone cheese (or cream cheese; I used BelGioioso brand marscarpone; gluten free, hormone free)
1 tsp non-bitter, liquid stevia (I used NuNaturals brand Clear NuStevia)
½ tsp vanilla extract (I used Simply Organic brand)
½ cup whole milk or cream (I used Shatto brand)
-OR-
Paleo-friendly buttercream frosting
1 cup coconut butter (or coconut oil, but frosting will be quite soft) (or grass-fed, unsalted butter; I used Kerrygold brand)
2 Tbs raw honey (purchased from a bee keeper friend)
¼ cup tapioca flour/starch (I used Trang brand from my local Asian market)
How-to:
Preheat oven to 3500F and prepare your baking vessel; grease lightly with coconut oil or line with paper cups.
Into a large bowl, sift together the flour, spices, and salt.

The paleo flour can be very dense. Sifting the dry ingredients yields a fluffier texture.

Combine the coconut oil and molasses before creaming in the coconut sugar.

The coconut sugar will not dissolve like brown sugar would. Just be sure there aren't any dry pockets of sugar.

1/3 at a time, fold the dry ingredients into the wet ingredients.

Batter will be really stiff. Fold enough times that the wet and dry ingredients look evenly distributed.

Dissolve baking soda in hot water and add to the batter. Fold the batter repeatedly until the water is absorbed.
Fold beaten eggs into the batter until just combined.

Don't over mix, or you'll end up with a dense cake.

Pour your batter into your prepared baking vessel.

I chose a muffin tin. I filled each well with 2-3 tablespoons of batter; basically to the top.

Bake the gingerbread for 40-45 minutes for cakes or 20-25 minutes for cupcakes.

A toothpick should come out clea

Let the cupcakes cool in the pan for at least 5-10 minutes before removing. For cakes, cool completely.

These cakes will be really soft until they have cooled completely.

While the gingerbread is baking and cooling, whip your frosting ingredients together. Store in the fridge until you need it.
Transfer frosting to a piping bag or a disposable storage bag with the tip cut off (my go-to method).!
When the gingerbread has cooled completely, decorate as you wish!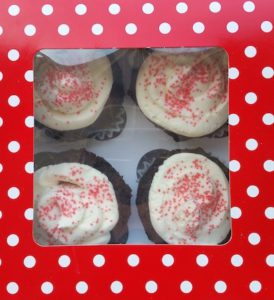 Makes 20 ¼ cup servings. Nutrition per serving: 150 kcal, 8 g total fat (2.4 g saturated fat, 0 g trans fat), 30 mg sodium, 72 mg potassium, 16 g total carbs (6.6 g dietary fiber, 1.2 g sugars), and 4.8 g protein.
I used organic, Hy-Vee brand almond and coconut flowers and Bob's Red Mill brand arrowroot starch.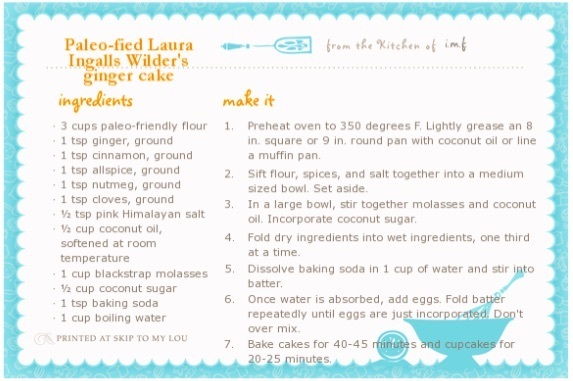 Nutrition per serving: 325.8 kcal, 16.8 g total fat (9.8 g saturated fat, 0 g trans fat), 258.6 mg sodium, 630 mg potassium, 38.2 g total carbs (6.1 g dietary fiber, 19.7 g sugars), and 6.6 g protein.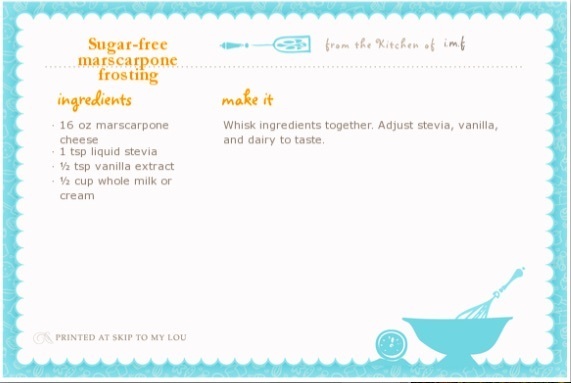 Nutrition per serving: 178.5 kcal, 17.8 g total fat (10.8 g saturated fat, 0 g trans fat), 15.4 mg sodium, 9.2 mg potassium, 0.6 g total carbs (0 g dietary fiber, 0 g sugars), and 1.2 g protein.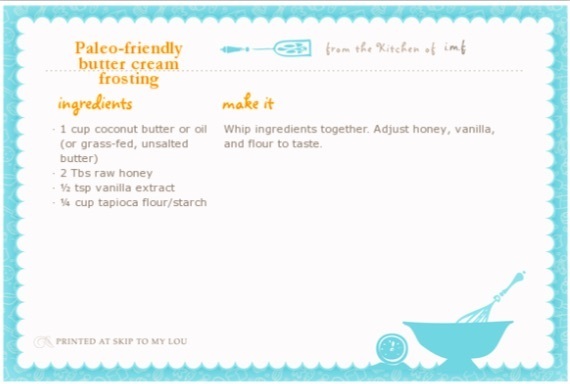 Nutritional per serving using Kerrygold, unsalted butter: 143.1 kcal, 14.8 g total fat (9.8 g saturated fat, 0 g trans fat), 0 mg sodium, 0 mg potassium, 5.4 g total carbs (0 g dietary fiber, 2.5 g sugars), and 0 g protein.
Isabella Fuentes
isamarfue@gmail.com