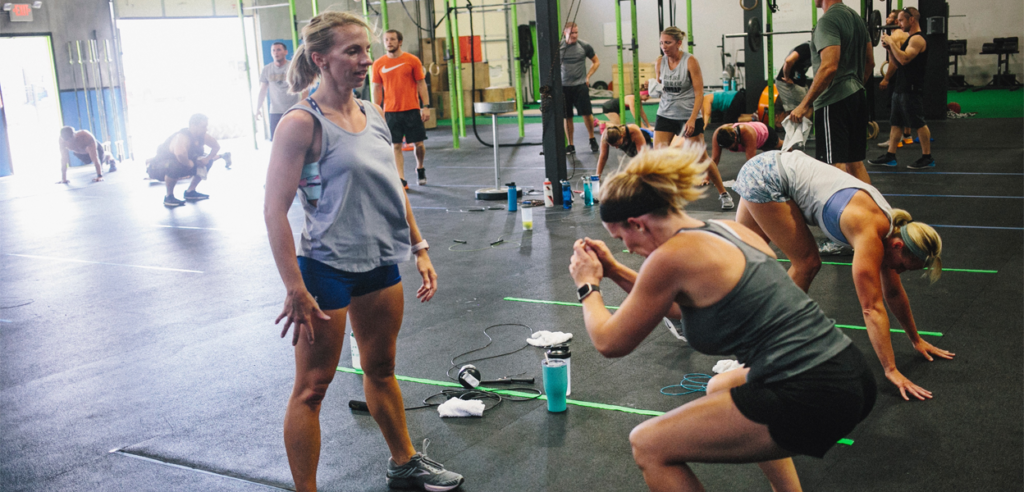 Free classes are on Saturdays at 8AM, Monday and Wednesdays at 6PM.  You must register via this contact form prior to arrival.  We can try to accommodate you if this does not fit your schedule.  
Interested in joining Performance Edge CrossFit? Your first class is FREE*! Just fill out the form below, and we will reach out to you soon.
*Offer is valid only for KC metro area residents.
What is CrossFit?
It's just the best way to improve your fitness, that's all.
You'll do all kinds of exercises with weights and with just your body.
Each day is different.
And CrossFit is different from other kinds of exercise. The combination of variety and intensity is a kind of secret sauce that is amazingly effective. There are lots of ways for you to get in shape, and some work better than others, but it's no longer necessary to reserve hours of your day to grind out time on a stair stepper.
You will spend less time working out and see more progress from CrossFit than from anything else you've done before. That's not idle bragging.
Will I like group classes?
Everyone is different.
BUT, these classes are extremely motivating, and there is a kind of indefinable magic that emerges when people are pulling for each other in class. The magic comes from the mixture of competition, which will drive you to personal performance you never dreamed was possible, and from the support of your classmates, which make the workouts fun and even inspiring.
You'll love it more than any other kind of working out you've done before.
And it will do more for you strength, your fitness, your ability to lose weight, your confidence, than any other workout you've done before.
We base this wild claim on having watched hundreds of people work out here, love it, and get results they can brag about.
Do you offer discounts?
Yes we do!  6 month and 12 month discounted and we offer big discounts for police/fire/military/student and couples.  *Discount eligibility is only for 6 month and 12 month commitments*
Do need to be in shape first?
No, no, no, no.
This is the most common misconception about CrossFit.
Yes, it has a reputation for being hard, but all of our workouts will be scaled and modified to accommodate whatever level of fitness you're at now.
CrossFit is for the super fit who want to take it up a notch AND for the person who's lifted nothing but paperclips for the last ten years.
The tools for both sorts of people are built right into the CrossFit method.
Don't decide you have to get in shape first to come here to get in shape. That's a recipe for never starting.
We work with all kinds of people in all kinds of shape. And that is an enormous source of pride for us and you can only start where you are, so start.
Why is CrossFit more expensive than other gyms?
It depends on what you are comparing the investment in crossfit to.  If you are looking at regular gyms, sure it looks that way.  Regular gyms can get by with only charging $20-$40/month and that's great if you are getting value out of it.  Their model is entirely relying on members not showing up.  They only see 20% of their members per week.  $20-40/month doesn't hurt that bad, so a person who is not attending, may keep the membership anyways under the false promise "I'm going to start back up Monday".  Crossfit is the exact opposite.  We see the majority of our members on a weekly basis.  Since we are a premium training service that provides professional coaching, we can not house as many members as a regular gym.  Compared to other premium training services, such as personal training, group training, or yoga, crossfit is actually much cheaper!  The average cost of a personal trainer is $60/session.  Crossfit is basically group personal training.  If you are utilizing the facility, the cost per class is going to be less than $10/class.  
What you get
A professional – qualified trainer to coach you and run you through classes.
A community that makes it fun and holds you more accountable.  
Programming – you get an awesome fitness program to follow that gets you amazing results.  
It all comes down to priorities. A Starbucks coffee is around $4!  A night out with dinner and a movie can run $80 or more.  Crossfit is an investment in improved functionality, a great fitness experience, and overall health.  Bottom line, crossfit is not expensive.  It only appears that way when it is compared to services that do not provide the same level of value.