Happy Halloween!  Fall is in full swing, the Chiefs are doing awesome, the weather feels great – life is good!  Here's what's happening at PECF.
BINGO
Make sure to get your bingo sheet located in a black binder on the whiteboard!  There are simple tasks to complete and prizes for bingos and blackouts.  Get a blackout and get your choice of a T-shirt or shaker bottle (who doesn't need another shaker bottle!).  First one to a blackout gets 1st Phorm protein!  (best protein on the market!)
There will also be a few good prizes to choose from for getting bingos too.
BRING A FRIEND FREE ON SATURDAYS! 
We are continuing the gift of fitness on Saturdays.  Find a buddy and bring them to our Saturday class.  It is a fun and challenging partner WOD scalable for all.
Member spotlight
Teri Hertz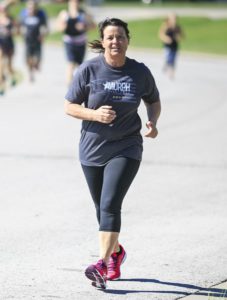 Born in San Diego, CA (scientific fact it is the greatest city on the planet according to Ron Burgundy)
Occupation? Administrative Assistant for a financial planner
Favorite Exercise? Front and back squats, sled pushes, and tire flips.
What CF achievement are you proud of? Finally being able to do a banded pull up and clean. Losing a whole roll of back fat is my biggest achievement!
What are some of your goals ? Lift heavier, double unders, and run without feeling like I'm going to die.
What is your diet like? Mostly healthy but I do love tacos and ice cream.
I have always wanted to….be taller
Hidden talent? Shot gun a beer!
What was your motivation to start CrossFit? To lose weight and get strong!
Advice for people wanting to try CF…you have nothing to lose but fat. You have so much more to gain…strength and confidence!  The coaches are awesome and are there willing and wanting to help you become a better YOU!
Who motivates you? Most people in the 5PM class konw I have two kids, Molly and Matthew.  Between their school and sports, you'll see them in class with me!
FITNESS NOTES
What a great month September was and October is only going to get better:)
Here's a little education on our WODs / Metcons and programming
First of all, if it is confusing, we say WOD and Met-Con interchangeably.  The Metcon represents the conditioning aspect of our workout, which is the heart of CrossFit.  Metcon stands for metabolic conditioning, a term popularized by CrossFit.  In the context of our program, metcons challenge all energy systems of the body eliciting increases in anaerobic and aerobic capacity.  They also build mental toughness!  Metcons are not only for conditioning but also build strength, skill, and coordination.
Each week we systematically program metcons that vary in intensity, duration, and purpose.  Short intense workouts, typically couplets and triplets (workouts consisting of 2-3 movements), are the sole of CrossFit conditioning.  The relationship between intensity and duration is simple: Short time domains allow for greater intensity.  Our capacity for intensity falls off as duration increases.  For example, you cannot sustain a 100 meter sprint for 800 meters.  Both are important and work together nicely to build a balanced fitness and greater work capacity.
Each week we program short and intense (10 minutes or less), medium (11-15 minutes), and longer (16+) metcons.  The metcons also vary in the type of movements and load in a way that compliments each other for the week.  For example:
Short, high intensity and high load.  Fran 21-15-9 thrusters 95/65 and pull-ups (this WOD pushes the threshold)
Short, low intensity, sprint, and no load. Annie 50-40-30-20-10 doubles and sit-ups (This WOD also pushes the threshold but does not break you down near as much
Long chipper (intensity will be lower as the time domain is greater).  1000 meter run, 30 C&J, 30 pull-ups, 30 burpee box overs, 1000 meter row…
Scaling vs. Rx – which is better?
It depends on the workout and ability to perform the tasks as intended.  Usually it is best to scale the weight to be able to do the workout as it is intended and meet the time domain.  This is because if the load is too heavy it will slow our pace down decreasing the conditioning aspect of the WOD.  If you are scaling to the most difficult weight and movement you can do correctly, your strength will improve and Rx will be within reach.  However, for an experienced crossfitter who has great conditioning but is lacking strength, it is recommended to go for the Rx (or as close as possible) and slow the pace down for a greater strength adaption.  This could also mean scaling reps. For example: 15-12-9 Fran at Rx weight.
Happy Birthday to….!
Jamie Bullock
Matt Kirkpatrick
Jillian Farnsworth
Travis Downing
Tucker Lienhop
Lara Booth
Cecilee Houdek
Dallas Diaz
Kristen Jolly
Matt Nelson
Introducing the AfterWOD
The party doesn't have to stop after the WOD.  The AfterWOD is post WOD work designed to strengthen our core, shoulder stability, and improve skills.  These extras will take 10-30 minutes depending on the day and how much time you have to spend.  You can do as much or as little as you want.  These short workouts will be great accessory work for your fitness.
EVENTS
October 14th – Festivus Games, hosted by B-Fit CrossFit in St. Joe
October 27th – Halloween Trunk-or-Treat.  Bring your kids for some treats and hangout as long as you want!  We'll have a fire pit and some games.
GET YOUR 'REP REPUBLIC SHRITS' 
PECF is a proud carrier of Rep republic.  This is a local company owned by Andy Newton, a passionate member of the CrossFit community and coach at CrossFit Fig.  The shirts are high quality with creative designs!  Get yours ASAP
Dirty Shoes! Please check your shoes for mud before coming into the gym.
TRAINER  TIP
"Move well, then move fast"
Have that as a motto.  It says it all.  Form over intensity always!  The goal is to perfect movement quality then pick up the intensity.  Watch the Game's athletes and you will notice that rep 101 looks exactly like rep 1.  Every time you step in the gym, have that in mind.
Thanks for being wonderful people and making this community great!  Lets kick some butt this month and make some GAINZ!!!
Please feel free to contact us with any questions