The workout of the week (WOW) is a weekly bonus WOD.   They are great challenges of endurance. Doing these WODs will greatly improve performance during class workouts. Do this workout 1st chance you get this week and post scores to the Member's Corner!
10/15/17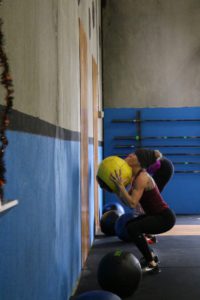 3 rounds for time.  rest 1 minute between rounds
80 meter sled push 45/25
80 meter farmer carry 53/35  Rx+ 70/44 *5 burpees for setting them down
400 meter run
Then rest 3 minutes
1 mile run
10/8/17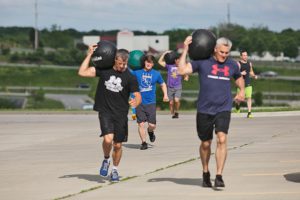 Chipper: Perform the following exercises as quickly as possible.
50 Calorie Row
40 Alternating weighted step-ups (20″/16″ box with 45/25 plate)
30 Kettlebell Swings (*53/35)
20 Goblet Squats (*53/35)
100 meter weighted run. (45/25)
20 Goblet Squats
30 Kettlebell Swings
40 alternating weighted step-ups
1k run
10/1/17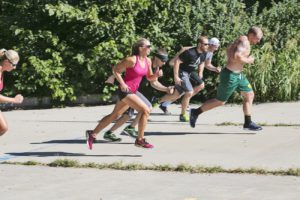 For Time
1 mile run (goal is relative to running ability and conditioning.  Use this as a reference, Advanced sub 7/sub 7:30.  Intermediate sub 7:45/ sub 8:15.  Beginner sub 8:45/9:30.  Again this is just a reference)
30 barbell thrusters (goal is unbroken)
800 meter run (goal is faster than half mile time)
30 pullups (goal is as few sets as possible.  Go strict if you want a greater challenge)
400 meter run (goal is faster than half 800 time)
30 GHD sit-ups (goal is as few sets as possible).  scale to a challenging sit-up
*Try to maintain your intensity.  That said, do not go out too fast.
9/25/17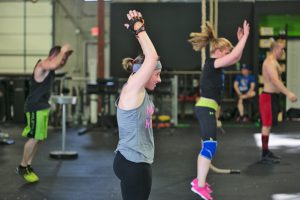 21-15-9-15-21
Calorie Row and burpees
9/18/17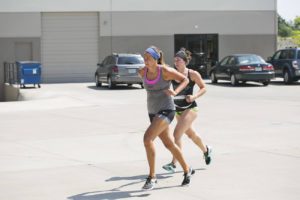 6 rounds
400 meter run
25 air squats
400 meter run
25 pushups
(=3 miles total)
9/9/17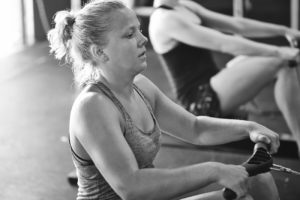 5 rounds
400 meter run
500 meter row