Great job with the Hero workout MURPH!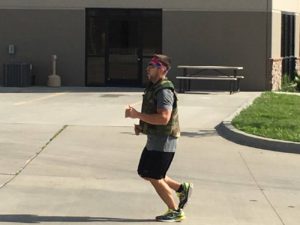 Murph (the workout) is a very high volume workout.  The amount of work load can have a big effect on your muscular system as well as you Central Nervous System.  You will have to listen to your body tomorrow.  If you feel wrecked and the legs are barely underneath you, do not do the strength.  You can push your squat back a day or two.
This week is a de-load week followed by some max outs next week.  We are de-loading differently than the traditional method.  Instead of reducing load (weight), we are reducing volume.  This allows us to keep the body used to the heavy stimulus while not over loading it to make recovery an easier procress.  The sets will be reduced to 3.  Next week we are going to be ready to set records!  I cannot wait.
Here are our strength cycle movements and this week's prescription:
Back squats, cleans *power or full, Strict Press, Bench Press
3 working sets 2 reps @ 85%, 90%, 90%
There is no met con for tomorrow.  Instead we are getting some great movements in a 'not for time' circuit.
Every 2:30
Back Squat 3×2 at 90%
superset with box Jumps 3×5. Explosive
Not For Time
3 Rounds
10 GHD Hip Extensions
10 GHD situps
100 meter Farmer Carry
3 rounds
10 DB Strict Press
20 body weight lunges
10 Bent over DB Rows *keep back flat. Get horizontal
to the ground